In 90th edition of the CSIO in Rome, Ireland scored victory for the first time in Piazza di Siena.
In the roll of honour of the prestigious Roman team competition, Italy is stil in the lead with 29 victories (the last two in 2017 and 2018) followed by France (first in 2022) with 20, Great Britain with 11 and Germany with 10.
The US teams took five victories, Switzerland three, Belgium, Sweden and the Netherlands two, while Mexico, Spain, Turkey, Ukraine and now Ireland have one each.
The Nations Cup at Piazza di Siena, titled Sanpaolo since 2018, is with no doubt the most fascinating date in the programme of every equestrian competition and only takes place within the CSIO format. In the history of the Roman Nations Cup, 30 nations entered at least one team.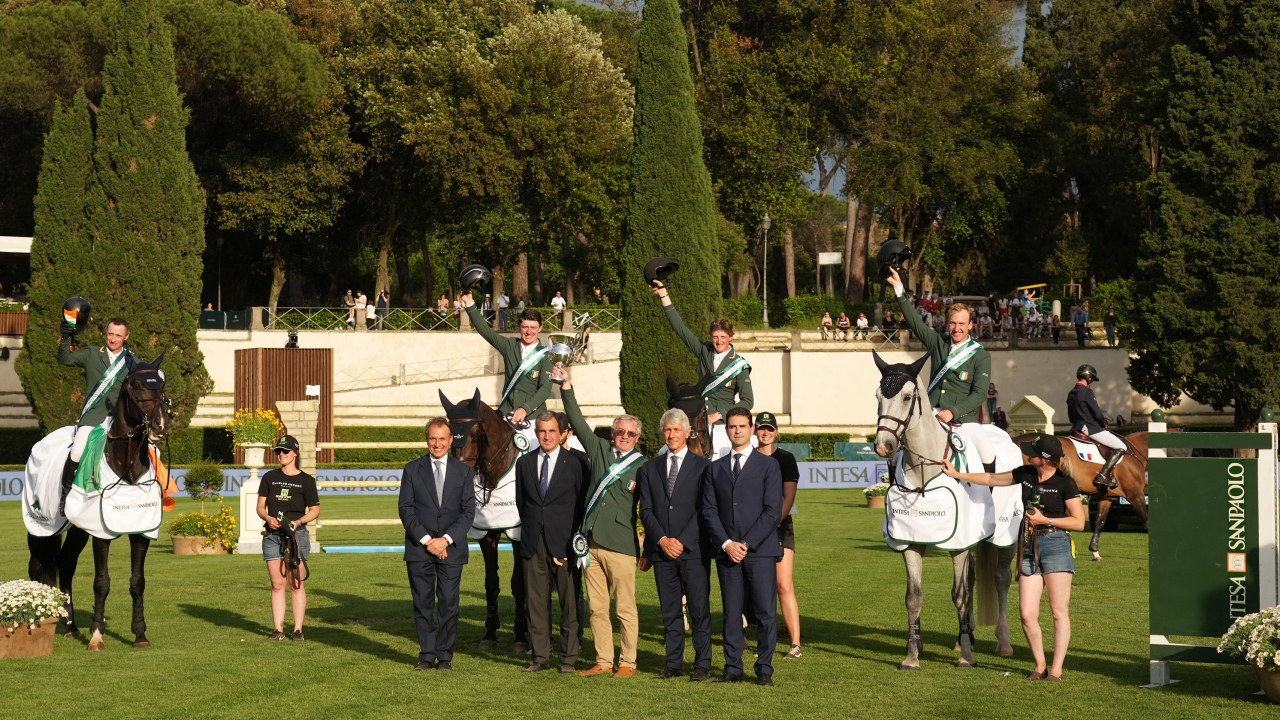 In the picture: Prize-giving ceremony with Ireland winning the Nations Cup Intesa Sanpaolo 2023. From the left: Vito Cozzoli (President and AD Sport e Salute), Marco Di Paola (President FISE), Michael Blake (Irish Chef d'Equipe), Andrea Abodi (Minister for Sport and Youth), Roberto Gabrielli (Lazio and Abruzzo Regional Director Intesa Sanpaolo) - Ph. Sport e Salute / Simone Ferraro
| Year | Nation |
| --- | --- |
| 2023 | IRELAND |
| 2022 | FRANCE |
| 2021 | BELGIUM |
| 2019 | SWEDEN |
| 2018 | ITALY |
| 2017 | ITALY |
| 2016 | GREAT BRITAIN |
| 2015 | GREAT BRITAIN |
| 2014 | BELGIUM |
| 2013 | UKRAINE |
| 2012 | GERMANY |
| 2011 | THE NETHERLANDS |
| 2010 | FRANCE |
| 2009 | USA |
| 2008 | GREAT BRITAIN |
| 2007 | GREAT BRITAIN |
| 2006 | FRANCE |
| 2005 | GREAT BRITAIN |
| 2004 | THE NETHERLANDS |
| 2003 | FRANCE |
| 2002 | FRANCE |
| 2001 | FRANCE |
| 2000 | SWEDEN (Samsung Nations Cup Final) |
| 2000 | GERMANY |
| 1999 | FRANCE |
| 1997 | WEG in Rome - CSIO not helded |
| 1997 | USA |
| 1996 | FRANCE |
| 1995 | FRANCE |
| 1994 | SWITZERLAND |
| 1993 | GERMANY |
| 1992 | FRANCE |
| 1991 | GREAT BRITAIN |
| 1990 | GREAT BRITAIN |
| 1989 | USA |
| 1988 | GREAT BRITAIN |
| 1987 | SWITZERLAND |
| 1986 | FRANCE |
| 1985 | ITALY |
| 1984 | FRANCE |
| 1983 | USA |
| 1982 | FRANCE |
| 1981 | FRANCE |
| 1980 | FRANCE |
| 1979 | FRANCE |
| 1978 | FRANCE |
| 1977 | ITALY |
| 1976 | ITALY |
| 1975 | ITALY |
| 1974 | ITALY |
| 1973 | GREAT BRITAIN |
| 1972 | ITALY |
| 1971 | GERMANY |
| 1970 | GREAT BRITAIN |
| 1969 | GERMANY |
| 1968 | ITALY |
| 1967 | SWITZERLAND |
| 1966 | ITALY |
| 1965 | ITALY |
| 1964 | ITALY |
| 1963 | GREAT BRITAIN |
| 1962 | ITALY |
| 1961 | ITALY |
| 1960 | Olympic Games in Rome - CSIO helded in Tourin |
| 1959 | USA |
| 1958 | GERMANY |
| 1957 | ITALY |
| 1956 | ITALY |
| 1955 | ITALY |
| 1954 | SPAIN |
| 1953 | ITALY |
| 1952 | ITALY |
| 1951 | ITALY |
| 1950 | ITALY |
| 1949 | FRANCE |
| 1948 | MESSICO |
| 1947 | ITALY |
| 1940 | GERMANY |
| 1939 | ITALY |
| 1938 | TURKEY |
| 1937 | ITALY |
| 1935 | FRANCE |
| 1934 | ITALY |
| 1933 | GERMANY |
| 1932 | GERMANY |
| 1931 | GERMANY |
| 1930 | ITALY |
| 1929 | ITALY |
| 1928 | ITALY |
| 1927 | FRANCE |
| 1926 | ITALY |