The Six Bar Competition returned to be part of Piazza di Siena's programme in 2015, after being included from 1950 to 1954, in 1996 and 1997, 1999 and 2000 as well as from 2006 to 2008.
The first winner in 1950 was Piero d'Inzeo, ex aequo with both his horses, Eletto and Brando, while the last Six Bar Competition was won in 2023 by Emilio Bicocchi e John Whitaker who riding Flinton and Green Grass, jumped clear with the last upright measuring 1.95 metres.
This very spectacular class often ends with the last jump in the series raised to over two metres.
At the 2007 Piazza di Siena CSIO5*, British riders Nick Skelton riding Russel and Robert Smith riding Vangelis S shared a win, with the last jump measuring 2.15 metres, one of the world records for this kind of competition.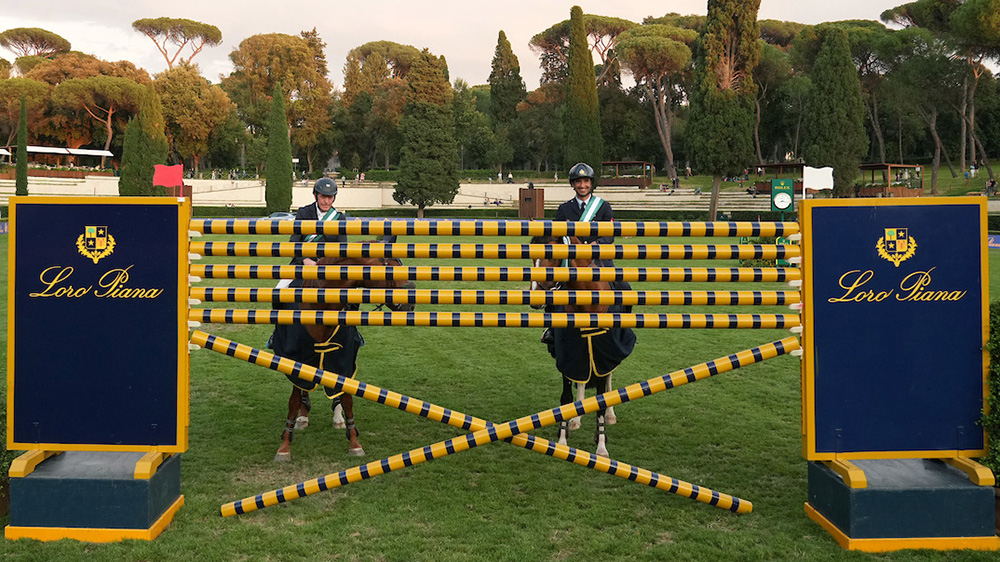 John Whitaker and Emilio Bicocchi - Photo Sport e Salute / Simone Ferraro
| Year | Rider | Nation | Horse | Height |
| --- | --- | --- | --- | --- |
| 2023 | Emilio Bicocchi | ITA | Flinton | 1.95 mt. |
| | John Whitaker | GBR | Green Grass | 1.95 mt. |
| 2022 | Emanuele Gaudiano | ITA | Chalou | 1.90 mt. |
| 2021 | Karim El Zoghby | EGY | Zandigo | 1.90 mt. |
| 2019 | Martin Fuchs | SUI | The Sinner | 2.00 mt. |
| 2018 | Harrie Smolders | NED | Cas 2 | 1.95 mt. |
| 2017 | Filippo Maria Bologni | ITA | Cassino | 1.90 mt. |
| 2016 | Luca Maria Moneta | ITA | Neptune Brecourt | 2.00 mt. |
| 2015 | Emanuele Gaudiano | ITA | Caspar | 1.85 mt. |
| 2008 | Peter Polstelmans | BEL | Ajoor | 1.95 mt. |
| 2007 | Nick Skelton | GBR | Russel | 2.15 mt. |
| | Robert Smith | GBR | Vangelis S. | 2.15 mt. |
| 2006 | Cameron Hanley | IRL | Charming Fox | 2.00 mt. |
| | Michael Whitaker | GBR | Leonardo | 2.00 mt. |
| 2000 | Davide Gorla | ITA | Loro Piana Lord Van Essene | 2.05 mt. |
| 1999 | Filippo Rizzi | ITA | Easy Jumper | 1.95 mt. |
| 1997 | Rodrigo Pessoa | BRA | Loro Piana Tomboy VI | 2.10 mt. |
| | Daniel Etter | SUI | Frederic VII | 2.10 mt. |
| 1996 | Thomas Schepers | GER | Limmerick W | 1.90 mt. |
| 1954 | Francisco Goyoaga | ESP | Baden | |
| 1953 | Fritz Thiedemann | GER | Diamant | |
| 1952 | Jorge Canaves | ARG | Canguro | |
| 1951 | Piero d'Inzeo | ITA | Brando | |
| 1950 | Piero d'Inzeo | ITA | Eletto | |
| | Piero d'Inzeo | ITA | Brando | |