The Roll of Honour for the Rome Grand Prix Rome starts in 1926 with the Polish rider, Adam Krolikiewicz on Picador and ends with German Andre Thieme who riding DSP Chakarial, his horse of a life-time as he said, signed the 90th edition of the prestigious Rolex Grand Prix 2023.
Colonel Piero d'Inzeo is the recordman for this Grand Prix. The eldest of the d'Inzeo brothers, won it seven times riding six different horses.
As for the horses, the highest number of victories (three) goes to the French gelding, Flambeau C, ridden by Frédéric Cottier.
Italian riders have won the Rome Grand Prix 23 times, following by French (20 times) and 11 German wins achieved by ten different riders since Franke Sloothaak won the Rome Grand Prix two years in a row in 1995 and 1996. Great Britain has won it six time and America and Ireland five.
The Rome Grand Prix has been won by ladies on six occasions with Anne Kursinski, Margie Goldstein-Engle and Chiara Bronfman (USA), Vicky Roycroft (AUS), Helena Weinberg (GER) and Eugenie Angot (FRA).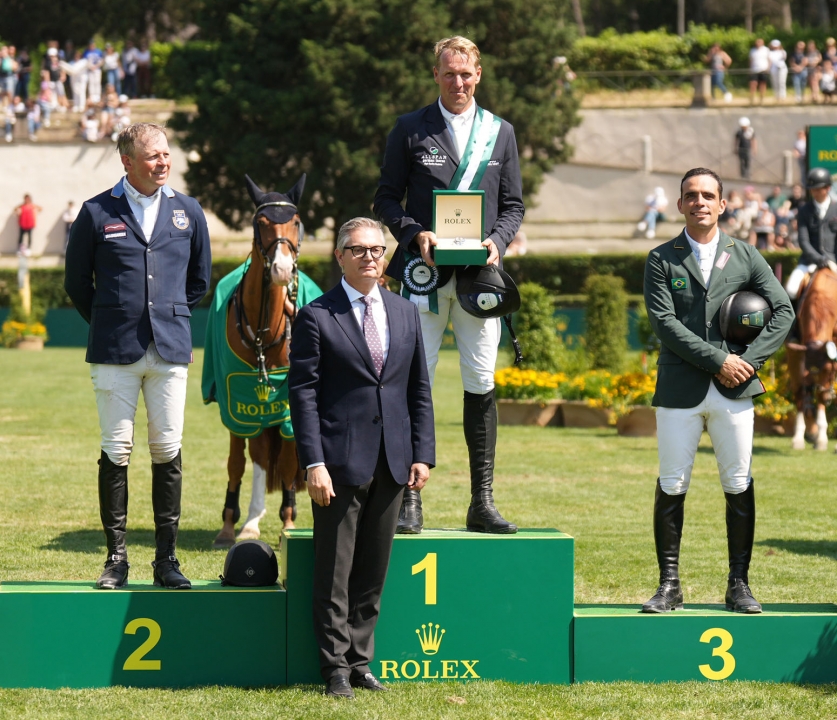 The Rolex Grand Prix Roma 2023 podium with Stefan Müller (Direttore Generale di Rolex Italia) - ph. Sport e Salute / Simone Ferraro
| Year | Rider | Nation | Horse |
| --- | --- | --- | --- |
| 2023 | Andre Thieme | GER | DSP Chakaria |
| 2022 | Denis Lynch | IRL | Brooklyn Heights |
| 2021 | David Will | GER | C Vier 2 |
| 2019 | Daniel Bluman | ISR | Ladriano Z |
| 2018 | Lorenzo De Luca | ITA | Halifax vh Kluizebos |
| 2017 | Jur Vrieling | NED | VDL Glasgow vh Merelnest |
| 2016 | McLain Ward | USA | HH Azur |
| 2015 | Henrik von Eckermann | SWE | Cantinero |
| 2014 | Eric Lamaze | CAN | Zigali PS |
| 2013 | Nick Skelton | GBR | Big Star |
| 2012 | Ludger Beerbaum | GER | Gotha FRH |
| 2011 | Eric Lamaze | CAN | Hickstead |
| 2010 | McLain Ward | USA | Sapphire |
| 2009 | Rodrigo Pessoa | BRA | Let's Fly |
| 2008 | Denis Lynch | IRL | Lantinus |
| 2007 | John Whitaker | GBR | Peppermill |
| 2006 | Nick Skelton | GBR | Arko III |
| 2005 | Christian Ahlmann | GER | Coster |
| 2004 | Eugenie Angot | FRA | Cigale du Tallis |
| 2003 | Bruno Broucqsault | FRA | Dileme de Cephe |
| 2002 | Claire Bronfman | USA | Charlton |
| 2001 | Markus Fuchs | SUI | Cosima |
| 2000 | Lisen Bratt | SWE | Casanova |
| 2000 | Dirk Demeersman | BEL | First Samuel |
| 1999 | Thierry Pomel | FRA | Thor des Chaines |
| 1997 | Margie Goldstein-Engle | USA | Hidden Creek's Laurel |
| 1996 | Franke Sloothaak | GER | San Patrignano Joly Coeur |
| 1995 | Franke Sloothaak | GER | San Patrignano Joly Coeur |
| 1994 | Arnaldo Bologni | ITA | May Day |
| 1993 | Jean Claude Vangeenberghe | BEL | Osta Car. Queen of Diamond |
| 1992 | Hervé Godignon | FRA | Quidam de Revel |
| 1991 | Hervé Godignon | FRA | Akai Prince D'Inconville |
| 1990 | Pierre Durand | FRA | Jappeloup |
| 1989 | Jean Claude Vangeenberghe | BEL | Queen of Diamond |
| 1988 | Helen Weinberg | GER | Just Malone |
| 1987 | Vicky Roycroft | AUS | Apache |
| 1986 | Bernardt Kamps | GER | Argonaut |
| 1985 | Michel Robert | FRA | Lafayette |
| 1984 | Frédéric Cottier | FRA | Flambeau C |
| 1983 | Anne Kursinski | USA | Livius |
| 1982 | Frédéric Cottier | FRA | Flambeau C |
| 1981 | Jean Marc Nicolas | FRA | Mador |
| 1980 | Frédéric Cottier | FRA | Flambeau C |
| 1979 | Artur Blickenstorfer | GER | Hendrik |
| 1978 | Eddie Macken | IRL | Boomerang |
| 1977 | Hendrik Schulze Siehoff | GER | Sarto |
| 1976 | Piero d'Inzeo | ITA | Easter Light |
| 1975 | Malcom Pyrah | GBR | April Love |
| 1974 | Raimondo d'Inzeo | ITA | Gone Away |
| 1973 | Piero d'Inzeo | ITA | Easter Light |
| 1972 | Graziano Mancinelli | ITA | Ambassador |
| 1971 | Raimondo d'Inzeo | ITA | Fiorello |
| 1970 | Piero d'Inzeo | ITA | Red Fox |
| 1969 | Salvatore Danno | ITA | Kim Ando |
| 1968 | Piero d'Inzeo | ITA | Fidux |
| 1967 | Piero d'Inzeo | ITA | Navarette |
| 1966 | Paul Weier | SUI | Junker |
| 1965 | Hugo Arrambide | ARG | Chimbote |
| 1964 | Alfonso Queipo de Llano | ESP | Infernal |
| 1963 | Harvey Smith | GBR | O'Malley |
| 1962 | Piero d'Inzeo | ITA | Sunbeam |
| 1961 | William Ringrose | IRL | Loch an Easpaig |
| 1959 | Hans Gunter Winkler | GER | Halla |
| 1958 | Piero d'Inzeo | ITA | The Rock |
| 1957 | Raimondo d'Inzeo | ITA | Merano |
| 1956 | Raimondo d'Inzeo | ITA | Merano |
| 1955 | Pierre Jonqueres d'Oriola | FRA | Charleston |
| 1954 | Pierre Jonqueres d'Oriola | FRA | Arlequin |
| 1953 | William Hanson | GBR | The Monarch |
| 1952 | Ricardo Echeverria | CHI | Lindo Peal |
| 1951 | Jaime Garcia Cruz | ESP | Quoniam |
| 1950 | Bertrand du Breuil | FRA | Tourbillon |
| 1949 | José Navarro Morenés | ESP | Quorum |
| 1948 | Jean d'Orgeix | FRA | Sucre de Pomme |
| 1947 | Alessandro Bettoni Cazzago | ITA | Uranio |
| 1940 | Alessandro Perrone | ITA | Guapo |
| 1939 | Fernando Filipponi | ITA | Nasello |
| 1938 | John Lewis | IRL | Limerick Lace |
| 1937 | Hans Heinrich Brinckmann | GER | Wotansbruder |
| 1936 | Gerardo Conforti | ITA | Saba |
| 1935 | Fernando Filipponi | ITA | Nasello |
| 1934 | Hubert de Maupeau | FRA | Esplatz |
| 1933 | Henry Pernot du Breuil | FRA | Exercise |
| 1932 | Maurice Gudin du Vallerin | FRA | Vermouth |
| 1931 | Henry Pernot du Breuil | FRA | Welcome |
| 1930 | Henry Pernot du Breuil | FRA | Vermouth |
| 1929 | Alessandro Bettoni Cazzago | ITA | Aladino |
| 1928 | Francesco Formigli | ITA | Grumo |
| 1927 | Giulio Borsarelli di Riffredo | ITA | Glauco |
| 1926 | Adam Krolikiewicz | POL | Picador |