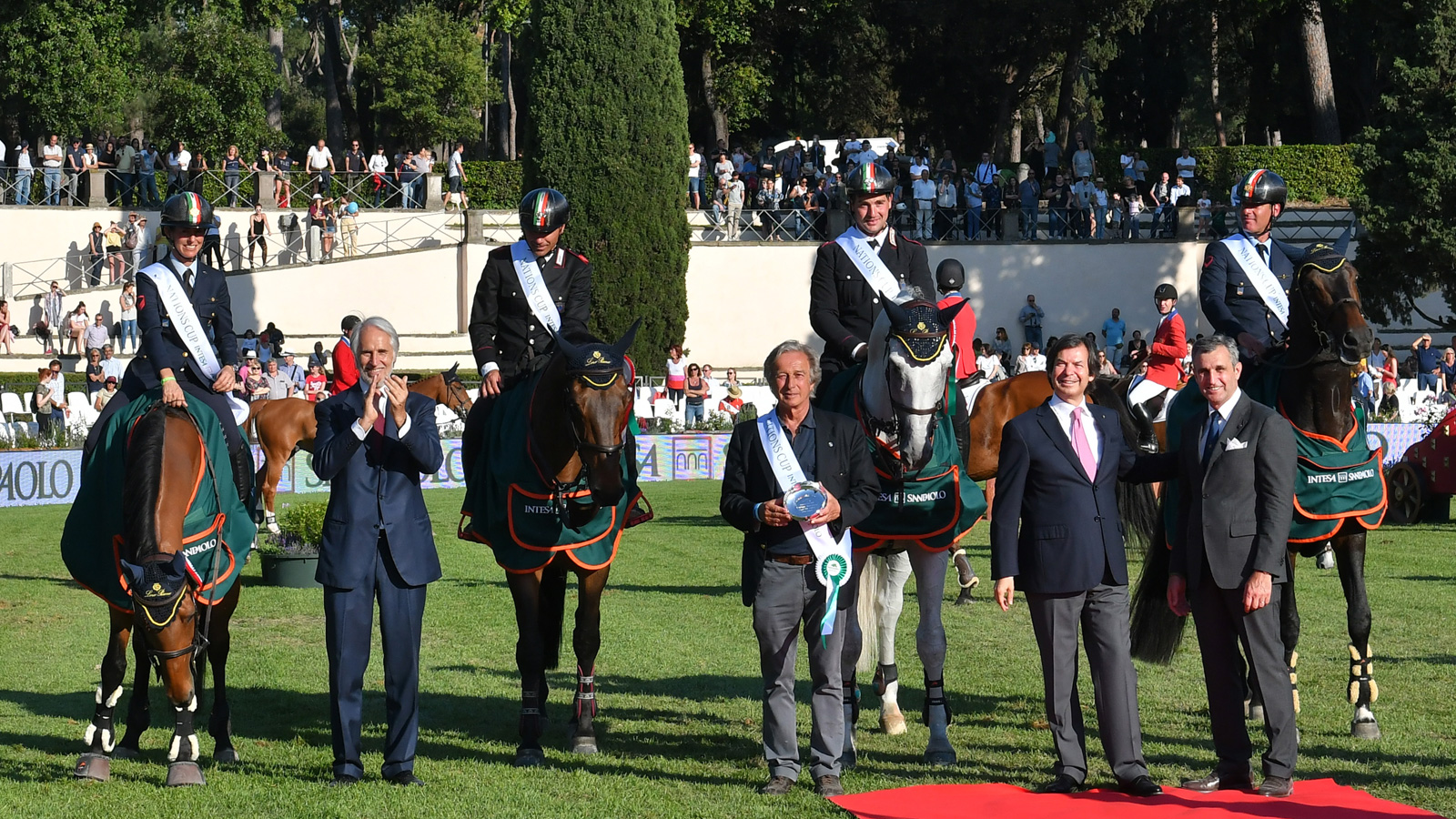 Ph Simone Ferraro-CONI
A Nations Cup has been held in every edition of the Rome CSIO with the exception of 1936.
Italy has collected twenty-nine victories, the first in 1926 with Tommaso Lequio di Assaba (Trebecco), Alessandro Bettoni Cazzago (Scoiattolo) and Giorgio Pacini (Zanghera), and the last two in 2017 with Piergiorgio Bucci riding Casallo Z, Alberto Zorzi riding Fair Light Van't Heike, Lorenzo De Luca riding Ensor de Litrange LXII and Bruno Chimirri riding Tower Mouche and in 2018 with Luca Marziani riding Tokyo du Soleil, Giulia Martinengo Marquet riding Verdine SZ, Emanuele Gaudiano riding Caspar 232 and Bruno Chimirri riding Tower Mouche.
The second place in the Nations Cup Roll of Honour, belongs to France with nineteen victories (fifteen since 1978), followed by Great Britain with twelve (the last two in 2015 and 2016) and Germany with eleven victories. The USA has won five times, Switzerland three and The Netherlands two. Mexico, Spain, Turkey, Sweden, Ukraine and Belgium are among the other winners of the competition.
| Year | Nation |
| --- | --- |
| 2018 | ITALY |
| 2017 | ITALY |
| 2016 | GREAT BRITAIN |
| 2015 | GREAT BRITAIN |
| 2014 | BELGIUM |
| 2013 | UKRAINE |
| 2012 | GERMANY |
| 2011 | THE NETHERLANDS |
| 2010 | FRANCE |
| 2009 | USA |
| 2008 | GREAT BRITAIN |
| 2007 | GREAT BRITAIN |
| 2006 | FRANCE |
| 2005 | GREAT BRITAIN |
| 2004 | THE NETHERLANDS |
| 2003 | FRANCE |
| 2002 | FRANCE |
| 2001 | FRANCE |
| 2000 | GERMANY |
| 2000 | SWEDEN |
| 1999 | FRANCE |
| 1997 | USA |
| 1996 | FRANCE |
| 1995 | FRANCE |
| 1994 | SWITZERLAND |
| 1993 | GERMANY |
| 1992 | FRANCE |
| 1991 | GREAT BRITAIN |
| 1990 | GREAT BRITAIN |
| 1989 | USA |
| 1988 | GREAT BRITAIN |
| 1987 | SWITZERLAND |
| 1986 | FRANCE |
| 1985 | ITALY |
| 1984 | FRANCE |
| 1983 | USA |
| 1982 | FRANCE |
| 1981 | FRANCE |
| 1980 | FRANCE |
| 1979 | FRANCE |
| 1978 | FRANCE |
| 1977 | ITALY |
| 1976 | ITALY |
| 1975 | ITALY |
| 1974 | ITALY |
| 1973 | GREAT BRITAIN |
| 1972 | ITALY |
| 1971 | GERMANY |
| 1970 | GREAT BRITAIN |
| 1969 | GERMANY |
| 1968 | ITALY |
| 1967 | SWITZERLAND |
| 1966 | ITALY |
| 1965 | ITALY |
| 1964 | ITALY |
| 1963 | GREAT BRITAIN |
| 1962 | ITALY |
| 1961 | ITALY |
| 1959 | USA |
| 1958 | GERMANY |
| 1957 | ITALY |
| 1956 | ITALY |
| 1955 | ITALY |
| 1954 | SPAIN |
| 1953 | ITALY |
| 1952 | ITALY |
| 1951 | ITALY |
| 1950 | ITALY |
| 1949 | FRANCE |
| 1948 | MESSICO |
| 1947 | ITALY |
| 1940 | GERMANY |
| 1939 | ITALY |
| 1938 | TURKEY |
| 1937 | ITALY |
| 1935 | FRANCE |
| 1934 | ITALY |
| 1933 | GERMANY |
| 1932 | GERMANY |
| 1931 | GERMANY |
| 1930 | ITALY |
| 1929 | ITALY |
| 1928 | ITALY |
| 1927 | FRANCE |
| 1926 | ITALY |