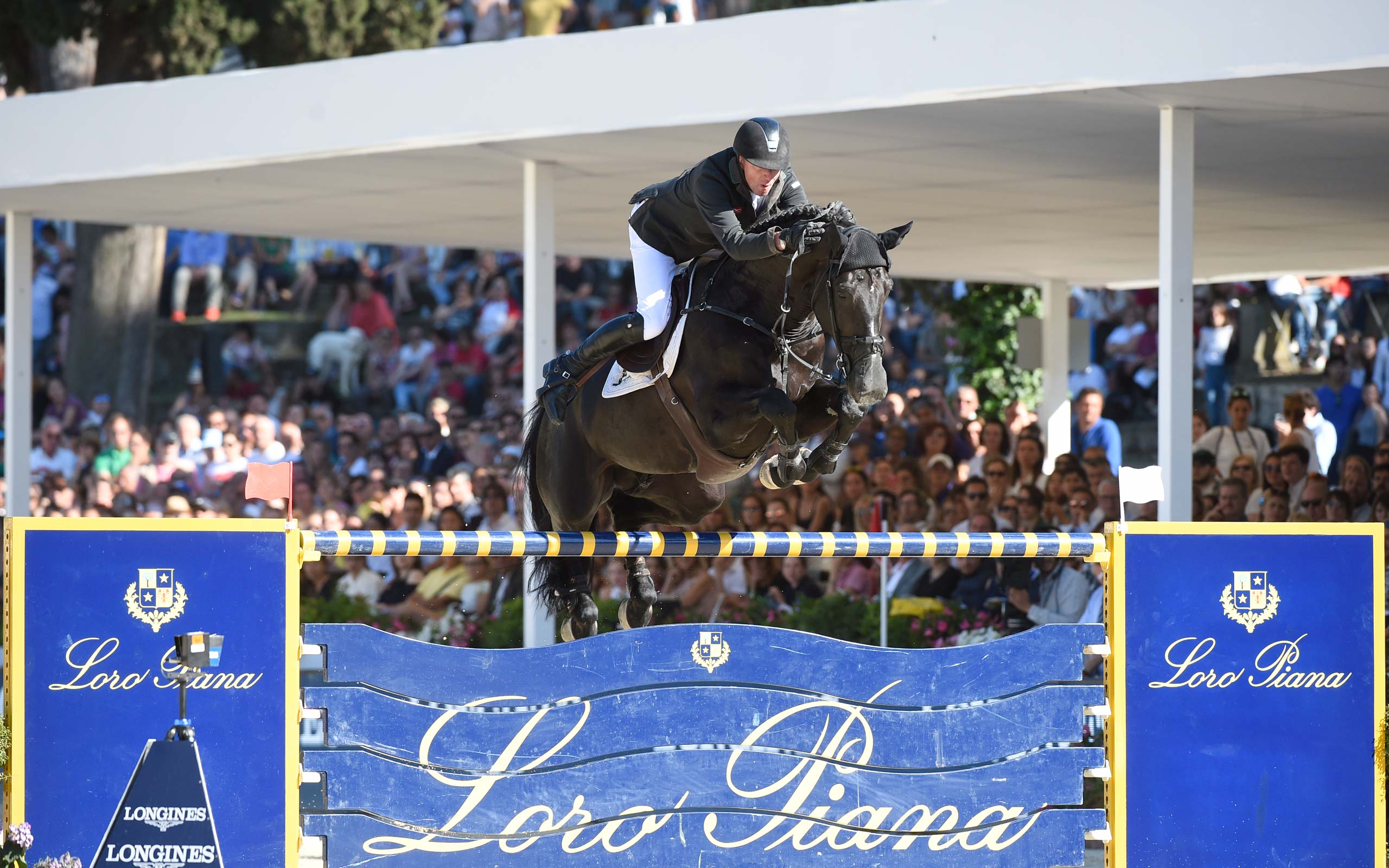 Vrieling posts first Dutch win in Rome Grand Prix
Jur Vrieling made history at Piazza di Siena today when becoming the first Dutch rider in the 85-year history of the event to win the Grand Prix of Rome sponsored by Loro Piana.
On another epic afternoon of sport at this iconic venue in the heart of Italy's capital city, it was the double Olympian and 2014 world team gold medallist who held his nerve after setting the target with VDL Glagor vh Merelsnest when seventh to go in the 12-horse jump-off.
It didn't go quite how he planned however. "I talked with our Chef d'Equipe Rob Ehrens and made a plan and I was quick over the first three fences, but I wanted to do nine strides, one less than most of the others, down to the double because Glasgow has such a big stride. But at the last minute I realised I was going too fast and I steadied him too much so instead we did 10 or 11, I'm not sure, and I don't know how he left the double up - he was almost 2 metres off the second part - this win today was 80 percent Glasgow and 20 percent me!" he said.
He followed Alberto Zorzi and Fair Light van T Heike into the ring as the Italian crowd groaned with disbelief that their hero of Friday's historic Nations Cup victory was super-fast but left the very final Loro Piana vertical on the ground.
"My horse was a bit strong in the first round but felt better in the jump-off and I tried to really go for it at the last fence. But I saw a distance that was a little too long and she hit it with her hind legs" he explained. His fast time of 45.92 seconds would be good enough for runner-up spot however because fence six turned into the bogey of this round.
Time and again other riders seemed to be up on time until clipping this oxer before the turn to the final vertical, and fellow-Italian Lorenzo de Luca was another to meet this fate. "I was a bit flat at fence seven like many others, but I can't be disappointed with my horse Ensor, if we keep jumping like this I'm very happy!" said de Luca who had to settle for third with his four faults in 46.02 seconds and earned the Master Fratellis d'Inzeo prize as Leading Rider of the Show.
Vrieling admitted that he was surprised to win, especially since his time of 50.32 seconds was relatively slow due to the muddle he got into at the double, three from home. But in the end he had the only clear jump-off round.
"I'm very happy I can tell you, especially after the Nations Cup when I got the biggest applause from the crowd when I had the last fence down to give Italy the win! I like that, that the people are so passionate and so extreme and emotional. The atmosphere at this show is unbelievable and this week I have enjoyed some of the nicest moments I have ever experienced with my horses!" he said.