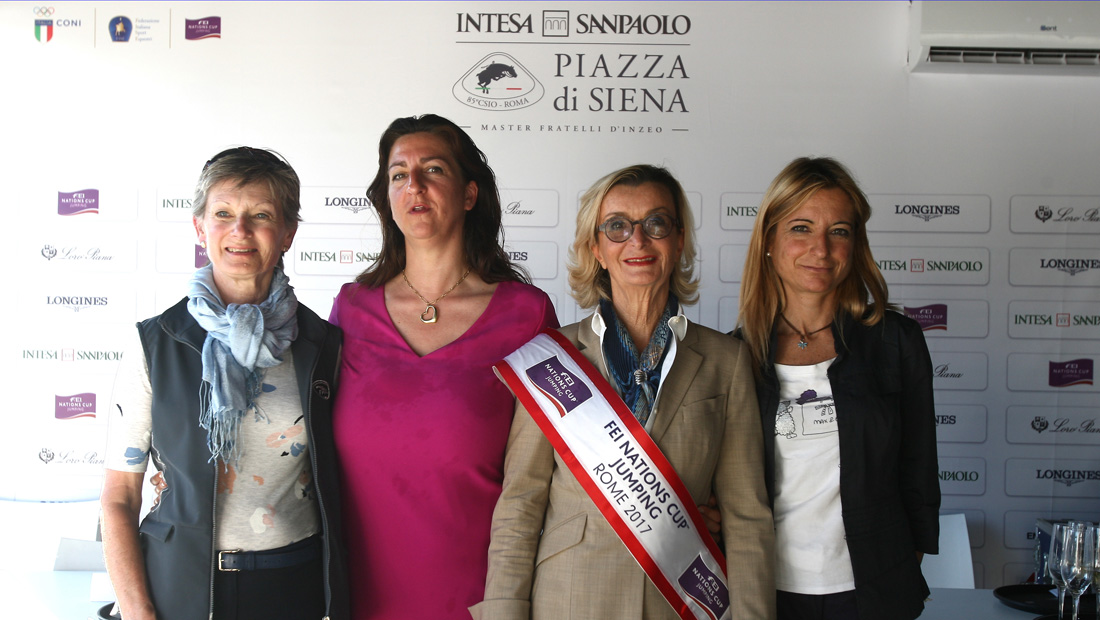 Pink Power in Rome - and for the ladies it's all about the horses…..
Olympic President, Thomas Bach, recently described equestrian sport as "a champion of gender equality", because men and women compete on an absolutely equal basis. And the fact that this equality extends right through the management of events makes it even more impressive.
This week at Rome Piazza di Siena Intesa Sanpaolo d'Inzeo Brothers Masters CSIO 2017 the ladies are out in force, holding down many of the most important roles. We spoke with some of them to learn more about what they do and how they do it, and a single theme emerged…the welfare of the horse is at the heart of everything they do….
Frances Hesketh-Jones Trulzi has four Olympic Games, five World Championships and numerous World Cup Finals and regional Championships under her belt and this week is President of the Ground Jury at one of her very favourite events. "Being a woman is not a disadvantage in our sport, there are women filling many of the top positions" she insists. Describing her work in various roles she says that, at its core, "it's really about trying to keep the sport fair and maintain a level playing field. You have to be authoritative, but at the beginning it's all about earning respect. Nobody owes you respect, you have to earn it. Sometimes you have to challenge the biggest names in the sport, and at first it can be very daunting!"
Alessandra Ceselli is Chief Steward and says her job is about protecting the horses and helping the riders to "stay within the rules". She loves what she does, even though the days, and nights, are very long. "You have to be a little bit crazy to want to do this work, but I am with the horses when they wake up in the morning and when they go to sleep at night, and it makes me very happy when they are happy and comfortable and safe in their stables after doing their job!" she says. It's all about team-work, "we have a great team here and what brings us all together is the love of horses" and as she points out, it's quite a privilege to be working at Piazza di Siena. "To be here working at a horse show in the middle of one of the most ancient cities in the world - it's like working in an open museum - it's just extraordinary!" she adds.
Eleonora Di Giuseppe is Event Director at CSIO di Roma 2017 and a Bureau member of the Italian national equestrian federation, FISE. She is responsible for ensuring that the "open museum" at Piazza di Siena is treated with all the respect it deserves. "I spent a long time studying this ancient site with its oval arena and concentric architecture before putting things together for this year's show, we have to be very respectful to our environment here" she says. "It's important that you don't take away from the park and the buildings - wherever you look you should be reminded that you are right in the heart of the city of Rome. And it is important that the public have access to everything for free - apart from the sponsor areas, everything is open to them" she explains.
She is very excited about the collaboration between FISE and the national Olympic Committee of italy, CONI, at this year's show. "Together we are working to secure the future of this great CSIO that has so much history behind it and to improve the profile of equestrian sport in Italy."
Two other female legends are also part of this year's Piazza di Siena "A Team". The legendary Italian trainer, chef d'equipe, breeder and show organiser Lalla Novo heads up the Appeals Committee, and the multi-talented Caterina Vagnozzi, who has been Press Officer at World Equestrian Games and numerous Championships is heading up the Media Relations team for the 26th year.
Lots of ladies are leading this year's show, all sharing a passion for this historic event, this iconic venue and, most importantly, the greatest equestrian athlete of all, the horse….