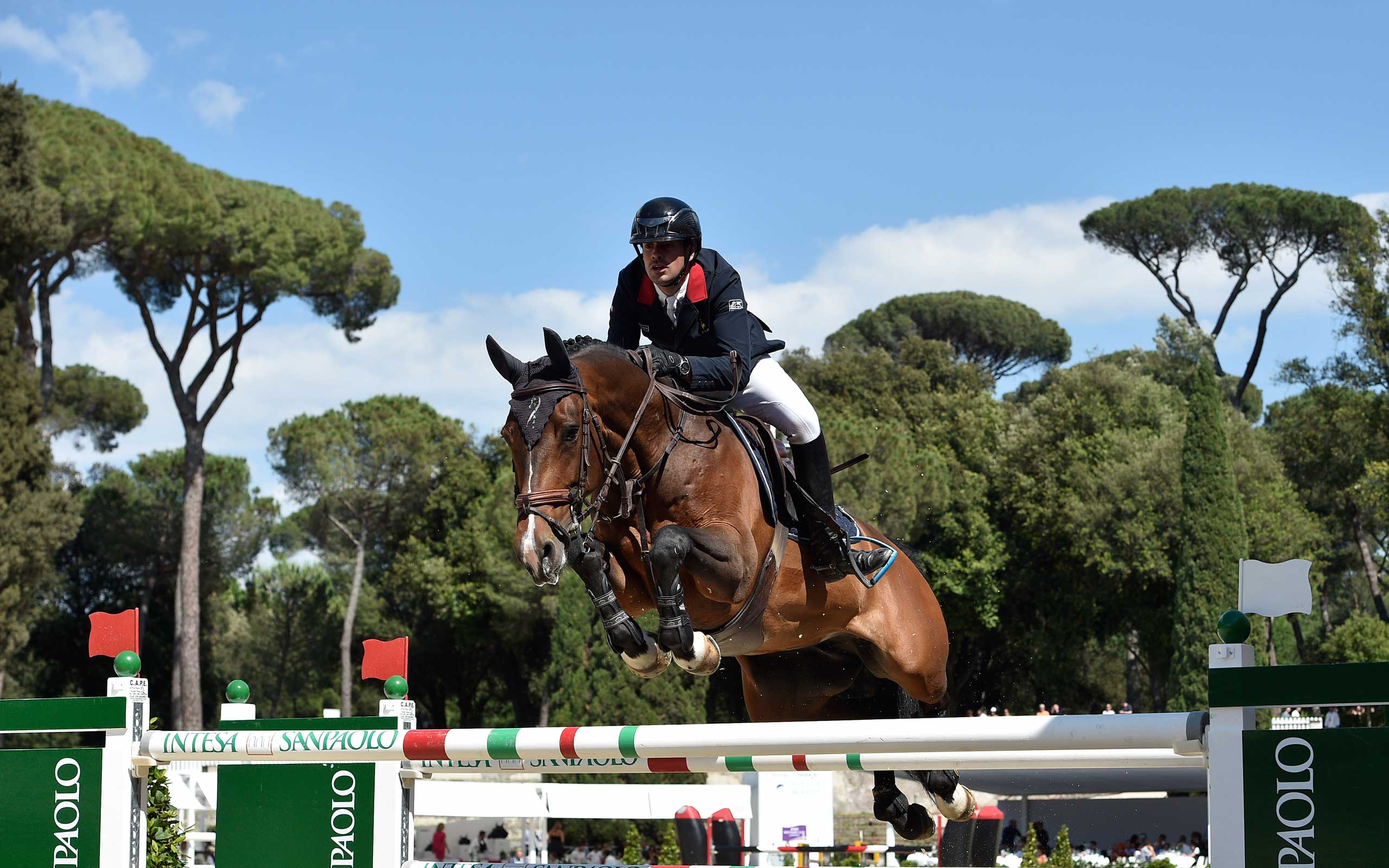 Billot beats them all in Small Grand Prix
The strains of the French national anthem rang out across the Villa Borghese this evening when Mathieu Billot galloped the opposition into submission in the Intesa Sanpaolo Small Grand Prix at Piazza di Siena. His fellow-countryman, Roger Yves Bost, jumped clear in the first round but decided not to join the jump-off so a total of 10 horse-and-rider combinations battled it out against the clock. And, second to go, one of the heroes of yesterday's momentous FEI Nations Cup™ victory, the Italian superstar Lorenzo De Luca, really put it up to the rest of them when scorching home with Halifax van Het Klutzebos in the 37.98 seconds.
But two horses later Billot set off like a rocket, twisting and turning his way around the jump-off track with the nine-year-old mare Ilena S who landed over the last like and raced through the finish two-hundredths of a second quicker. And although Ireland's Shane Sweetnam gave it his best shot with his nine-year-old gelding Main Road, he was almost two seconds slower when slotting into third.
Billot has been riding since he was four years old and won the European Junior title in 2002, so the 31-year-old from Deauville is familiar with success. He has competed on French Nations Cup teams and was reserve rider for FEI Nations Cup™ Final in Barcelona, Spain last September, but this is his first time in Rome. And although he wasn't on the French side that finished fifth yesterday, he's feeling confident ahead of tomorrow's Loro Piana Gran Premio Citta di Roma which begins at 15.15 local time.
He was full of praise for his winning mare today. "She is exceptional!" he said, explaining that French Chef d'Equipe Philip Guerdat told him he could take the win before he went into the arena for the second time.
Lorenzo De Luca admitted that he steadied his handsome chestnut stallion before the final oxer and might have lost pole position there, but 24 hours after the ecstasy of helping to clinch the FEI Nations Cup™ for the first time in 32 years on home ground he is still on a high. "Yesterday was such a relief, we finished well and we now have great confidence in our team, it's all really positive!" said the man whose rise to the no. 6 spot in the Longines world rankings is not just evidence of his great talent, but also his trademark dedication and strong work ethic.
Italy also had to settle for runner-up spot in the opening Young Horse Final this morning when juan Carlos Garcia and Artiste du Guerpre were pipped by Belgium's Gudrun Pateer and Sea Coast Kira van het Bokkenhof.
But Filippo Bologni had the home crowd right behind him when scooping the top prize in the Intesa Sanpaolo Six Bar with Cassino, pipping the only other contender to make it to the third round, fellow-Italian Eugenio Grimaldo with Unit 2. Bologni jumped over a height of 1.90 mt for the last fence.