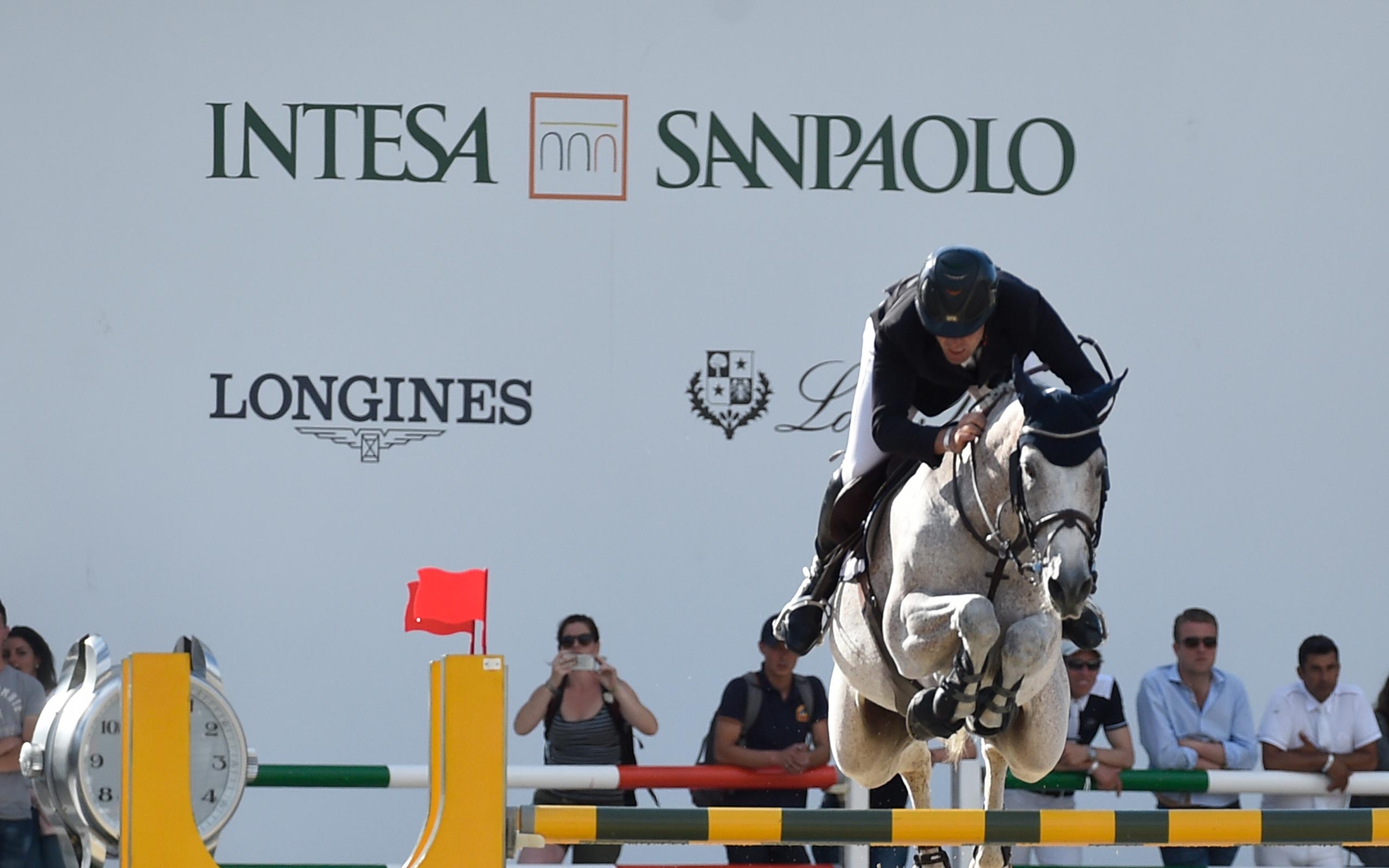 A little Irish magic gives McAuley the big win on opening day
Ireland's Mark McAuley scorched to victory in the Intesa Sanpaolo Speed event on the opening day of the Rome Piazza di Siena Intesa Sanpaolo d'Inzeo Brothers Masters CSIO 2017 today with a sensational round from the gelding Miebello.
Sixth to go in the field of 52 starters, the 30-year-old rider who is 548th in the Longines rankings pinned world no. 8, French star Kevin Staut, into runner-up spot with Silver Deux de Virton HDC, while Spain's Sergio Alvarez Moya and Iron Man lll slotted into third. Top Italian was the youngest competitor at this 85th edition of one of the most popular horse shows in the world, 18-year-old Guido Franchi who steered Quixotic DC into fourth place.
McAuley had the handbrake off when setting the target in 67.02 seconds and was still in command when Staut set sail with just five left to go. And the Frenchman who claimed team gold at last summer's Olympic Games in Rio de Janeiro cruised home with the greatest of ease to post 68.75 seconds for second place with his 11-year-old stallion.
This was a special win for the Irishman who has really struck form in the recent past. Last Sunday he was runner-up in the Grand Prix with Miebello at Bourg-en-Bresse in France, and today the pair's blistering pace just proved too good for the rest of them. The 13-year-old gelding belongs to McAuley's Swedish girlfriend, international rider Charlotte Mordasini who was injured in a fall a few months ago. "It was nasty, she fractured her spine, but she's riding again now I'm glad to say" McAuley explained. The pair, who live in Switzerland, run a yard together in France so today's success is a shared one.
"I was early to go in the class so I wasn't sure how fast I needed to be. I made a plan and stuck to that and the horse jumped great but I was surprised when I wasn't caught! Kevin got quite close, in fact I thought he had me, but he didn't!" McAuley said.
And the Irishman got more good news today when his Chef d'Equipe, Rodrigo Pessoa, confirmed him as a member of the Irish team for tomorrow's FEI Nations Cup in which he will partner Utchan de Belheme.
Andersson is the ace in Land Rover Speed
It was a good day all round for the Irish contingent, with Shane Sweetnam filling runner-up spot in the Land Rover 1.50m Speed competition won by Sweden's Petronella Andersson who is also just recovered from a recent injury. Partnering the 13-year-old gelding Entre Nous, 26-year-old Andersson, who has been riding for Stephex Stables for the last four years, broke the beam in 65.91 seconds to clinch victory. Sweetnam was delighted with second spot for his promising nine-year-old mare Indra van de Oude Halhoef.
"This is only my second big show since I started riding again, so I'm a bit surprised to win!" Andersson said. "My horse is not always the fastest but he has a big stride and with a smooth ride over the nice lines we had today in Uliano's course it gave me a good time."
She has also been selected for tomorrow's FEI Nations Cup - "I'm probably the least experienced rider in the Swedish team but I'm very happy to be selected and I really love this show here in Rome!" she added.
Paini and Clodia clinch last-to-go victory in MAG-JLT Two-Phase
Paolo Paini's 10-year-old mare, Clodia CSG, showed great maturity when clinching Italy's first victory of this year's CSIO Rome in the greatest of style as the action got underway this morning.
Switzerland's Jane Richard Philips and the nine-year-old Izmir van de Baeyenne set the standard when clear in 25.13 seconds early in the class and looked set to hold on, right to the very end. But, last to go, Paini and Clodia demoted them to runner-up spot with a thrilling run that put the winning time of 24.21 seconds on the board.
"When she really tries against the clock she's impossible to beat!" said the 47-year-old rider of the horse that also brought him a big win in Rome last year. "I have Clodia since she was five years old and she has won a lot of speed classes but she also jumps in Grand Prix up to 1.55m. She has had wins at Al Ain 4-Star and Arezzo 3-Star - she's a really top horse!"